the last word (tm)
Vol. 15/No. 5 - 428th issue - August 20, 2006
bandit@iglou.com - http://members.iglou.com/bandit - Bellevue, Kentucky
Check out the latest CONSERVATIVE FOOL OF THE DAY at http://conservafools.blog-city.com
Blog blogga blog at http://bandit73.pitas.com
NFL PAT-DOWNS SIDELINED
Aug. 15 - The National Football League in recent years has become an ever greater irritant as it swings its billowy nutsack across the American skyline, engulfing all that stands in its way.
The NFL earned our scorn during last season when it started its pat-downs of fans, a move that was criticized even by unlikely politicians as not only intrusive but completely ineffective. In Cincinnati, county officials were angered by the league enforcing the pat-downs not only at a taxpayer-funded stadium but using a firm hired with taxpayer money.
The friskings appear especially chilling when you consider how long the NFL held up without them while not facing any problems severe enough to justify them. In other words, the pat-downs are an example of tyranny creep. Frankly, we don't buy the arguments by the chattering few - mostly conservatives - who claim the pat-downs are needed because it's a different world than 25 years ago. If society has declined so much that football fans can't be trusted at a game, a lot of that is because conservatives who have run the country have set such a bad example for everyone else.
But a couple weeks ago something damn near uproarious happened.
It seems that not every spectator appreciates being treated like a hardened criminal when they go to see their favorite team play. According to the AP, a season ticket holder filed a lawsuit against the Tampa Sports Authority for carrying out the Nazi Fascist League's fiat at Buccaneers games. The plaintiff wasn't just any sports buff. He is a high school civics teacher, so it's fair to assume he knows more about the Constitution than the NFL does.
First, a state judge ruled in the fan's favor; later, U.S. District Judge James Whittemore also ordered the NFL's pat-downs to the sidelines. The friskings were found to violate not just the Florida Constitution but also the U.S. Constitution, as they amount to unreasonable searches.
Surely this sensible ruling will cause much grumbling among the wingnutosphere on several fronts. (Which of course is gonna be funny.) For one thing they'll be upset about not having pat-downs anymore to harass everyone - but for another they'll be furious over the rejection of a concept they hold dear: The modern brand of conservative thinks facilities that receive taxpayer subsidies should be treated as if private entities have free rein there. (Just look what happens whenever Bush comes to your town.) But that view runs afoul of constitutional and common law that's been in place since before Antonin Scalia was even watching Zoom. Publicly subsidized facilities are, well, public - even if that subsidy is minimal.
Savor the court's ruling. Close your eyes, place your thumbs in your ears, wiggle your fingers, and stick your tongue (preferably coated with chewed Chex Mix) out at the NFL as far as it will go. The Nazi Fascist League so deserves to be guffawed at. But don't celebrate too hard, because the Tampa Sports Authority is threatening to waste taxpayers' money by appealing the ruling. (Why???)
Also, that's contempt of court if other NFL venues continue to impose the pat-downs. Just so you know.
This isn't the only court case surrounding the league's illegal fan searches. The Chicago Park District has filed a federal suit over searches by police at Bears games. We'll devour our chapeaus if the courts allow that shit.
America must be returned to the days before tyranny creep hit its stride. If a modern Rip Van Winkle awakened now after a 25-year slumber, he would find himself in an America he doesn't recognize.
SCHOOL GETS PANTS SUED OFF (AND DESERVEDLY SO)
Aug. 20 - Does this sound familiar, people?
Casey County High School in Central Kentucky has found its reputation pulped to tatters as it's become a haven for serial harassers. According to 5 former students, the school fails to crack down on peer harassment, and now they've sued the superintendent, principal, and 12 other school employees for allowing this abuse, which often included physical assaults.
According to the plaintiffs, school officials 1) ignored very reasonable demands that they do something about the problem; 2) actually insulted those who complained about it; and 3) even suspended the victims. The student bullying at this high school was so out of control that victims transferred to other school districts or started homeschooling. One of them couldn't even attend her own graduation because of this right-wing harassment.
Naturally, school system officials deny they even have a bullying problem.
To repeat: Does this sound familiar, people?
Do all schools that have a serious student harassment problem deny it? It seems like the worse the issue is, the harder the school will work to cover it up. Then again, however, this axiom seems to be self-fulfilling in several ways. For one thing, if the harassment didn't occur, the school wouldn't need to gloss it over. For another, school officials' willful denial of the problem makes them active participants.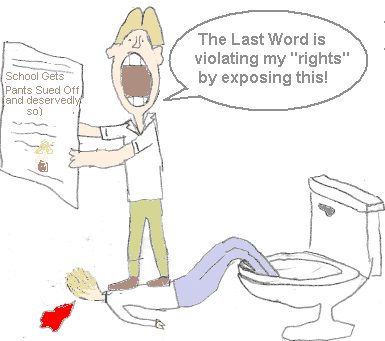 Wasn't Kentucky supposed to pass a law to curtail school harassers? Or did it die in the Republican-controlled Kentucky Senate (again)? We're almost afraid to check...yep, it did. Some Nazi named Dan Kelly, who is Majority Floor Leader, wouldn't even let the bill go to a vote in the Senate because he was so opposed to it. (Legitimately, the Republicans shouldn't even be in the majority in the Kentucky Senate, because they only got there through fraud. But you never heard that part, because that must have been around the time the media was really right-wing or something. Oh, wait...)
Kentucky lawmakers are too busy passing laws against purchasing too much allergy medication or letting schools revoke the driver's license of students who get a D in religion class. At the same time, however, so-called students who harass schoolmates don't get their license revoked, because they cry about how that would violate their "rights."
We're waiting with basted breath to see what the Casey County Schools' defense is going to be in the lawsuit against it, and if the court actually buys it. (You'd be surprised how many right-wing jurists actually side with school harassers.)
Reading us online? Click on these words to go up to our index!
(Copywrong 2006.)
* * *