the last word (tm)
Vol. 21/No. 1 - 465th issue – April 3, 2012
lastword@bunkerblast.info - http://www.bunkerblast.info - Bellevue, Kentucky
CHECK OUT THE ONLINE LUNCHPAIL AT http://onlinelunchpail.blogspot.com
THE LAST WORD IS NOT DEAD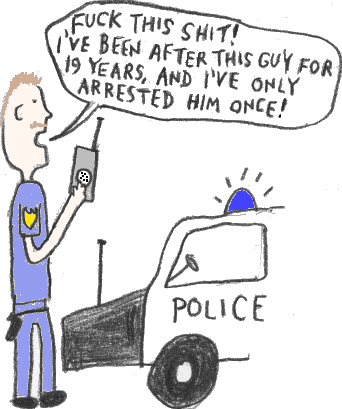 Dear friends and supporters:
So the day we have all feared has finally come. Much as I dreaded my 8th grade graduation Mass (which a perfectly timed expulsion rescued me from), today is the day that stokes the same level of terror in your heart.
Since 1993, The Last Word has filled a gaping canyon. Northern Kentucky has long had a shortage of pure, independent journalism, so while I was still a freshman in college, I saw a dire need for the type of reportage that The Last Word has provided. Despite countless obstacles thrown in my path by the Far Right, I've performed this task with as much honesty and integrity as I could muster. I have much to be proud of.
For almost all Americans living in 1993, there was no such thing as the Internet. I didn't have 'Net access and never dreamed I would. That meant The Last Word was originally a typewritten, photocopied bulletin. But for the past few years, there's been no reason for The Last Word to still be what it is except as a shrine to its original format.
We've finally reached the time when this is no longer sustainable. If there's one thing the medical community agrees on, it's that I'm a dead man walking. I have the body of a man twice my age. This means we must adapt.
When I made the decision to adapt, I could not keep my composure. It felt like the death of a family member. But things will go on in a different form.
This newsletter must now be put to rest in its familiar form. But its trademarked name, attitude, and entire essence will live on. Everything except the current format will live on. The Last Word is a respected name, and I've long made heroic efforts to protect this brand. Best all (as the old Hubba Bubba ads would say), the signature style of rugged, trenchant commentary that made The Last Word famous will continue on my blog, The Online Lunchpail - and our Last Word name will be featured prominently. Even better all (as the old Hubba Bubba ads wouldn't say), our uproarious editorial comics will also appear on this new merged medium.
The Last Word is not dead.
So - for our blogs and other continuing Last Word projects - aim high and aim here...
I am grateful for the loyalty of my readers, and I'll never forget the past 19 turbulent years. But now it's time to bring this ship in to the shore and throw away the oars forever.
THAT'S ALL!
MONTHLY MORON MOTORIST
As this feature appears in print one last time, savor it like a good, long shit!
Our "Monthly Moron Motorist" backlog goes back to December, when I had my fact-finding mission in South Carolina. Northwest on I-26 in Charleston, I witnessed a hapless gent driving into the grass to access an exit ramp. He was a weird one indeed, that man was.
The winner of this dubious diSTINKtion for January was some unthinking ignoramus who slowly tailgated me on Broadway while I was on my way to an Occupy Cincinnati meeting. It was a Chris DeBurgh look-alike. Just joking! I didn't see the person's face, so it is possible that they did resemble the 1980s singer, but unlikely.
For the month of Febrewery, the so-called winner was the driving school flunk-out who ran a red light in Bellevue and almost plowed into me.
Finally, our "Monthly Moron Motorist" for March was encountered late one night during the Occupy coalition's incredible growth spurt last month. The encounter was right after Occupy Cincinnati got its warehouse and regained Piatt Park. (Piatt Park has since been Occupied around the clock - the way the First Amendment says. It's cool how that Constitution thing works.) One night, as we were carpooling from the park to the warehouse to use the tinkletorium, a garbage truck carelessly pulled off a side street. The garbage truck almost Occupied us.
But we survived much as The Last Word shall.
Reading us online? Click on these words to go up to our index!
(Copywrong 2012)
* * *